Planning Trips for Divers and Snorkellers at Competitive Prices with Consistent Customer Service Since 2005
Asia Diving Vacation was created to introduce divers to the best dive sites in Asia. Our resorts and dive packages focus on the rich waters of the Coral Triangle. This beautiful part of the ocean holds 75% of the world's known species including 600 colourful reef-building corals and over 3,000 species of fish.
The Coral Triangle is bursting with life and Asia Diving Vacation wants you to see it all. From the world's largest fish – the whale shark – to small nudibranchs, seahorses, and coral shrimps we facilitate encounters you won't soon forget. A dive vacation is a great way to get in touch with nature, relax, and learn something new. It's an adventure that you can experience on your own or share with your family and loved ones.
We at Asia Diving Vacation are passionate divers and we hope that by exploring our site you will learn more about scuba diving and the beautiful marine creatures our oceans hold. If you are new to diving perhaps you'll be convinced it's finally time to take the plunge. We do hope you enjoy our site. We have personally visited all the resorts listed on this site and are confident in recommending them to you.
Asia Diving Vacation is fully owned and operated by Duis Dive Sdn Bhd. Duis Dive is a licensed inbound and outbound tour operator bearing the license KPK/LN 6502 under the Ministry of Tourism Malaysia.
We have helped thousands of divers and snorkellers like you plan your dive trip since 2005.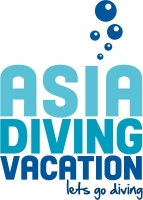 What Do Our Customers Say About Us?
We always derive pleasure from knowing that you will have a great time at your dive destination. Here's some nice words we received from our customers:
Fantastic Diving Trip thanks to ADV

"Throughout the reservation process, ladies in charge at ADV were extremely kind and responsive to my queries and requests, with the level of professionalism that I have never experienced with any other travel agency. Thanks to them and thanks to the staffs at Kapalai, I experienced the most exciting diving of my life at Sipadan, especially with Barracudas that came back for me after almost one year's absence!"

toko0818

Excellent travel agent with amazing response time.

"Booked my 7 days diving holiday through them. The information and details were so perfect. The agent dealing with me was most courteous and she ensured that all my requests and requirements were met more than 100%. Got a great deal too. The most efficient travel agent , I have ever dealt with. The response time to all my queries was almost instant. I am surely gonna travel through them again in near future. I must thank them for turning my dream holiday into reality."

Rockybuddy

Dive Sipidan

"My wife and I had a fantastic experience staying on Mabul Island and diving this incredible part of the World. Asia Diving Vacations could not of been more helpful in all respects; travel, accomodation, communications and arranging an extra days Diving at Sipidan."

AndyDonna

very helpful, and responsive

"Asia diving vacation were really helpful with very prompt responses over the span on 2 weeks helping us choose the perfect place to go with our hard to accommodate conditions, extended the payment deadline multiple times to accommodate our way of payment."

Hodhod
More reviews on Google, Facebook and Review Centre.
DAN Asia Pacific Super Supporter
At Asia Diving Vacation, we are advocates of dive safety and proud DAN Asia-Pacific Super Supporter.